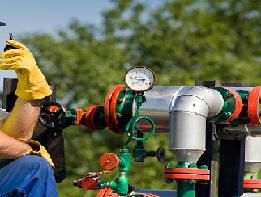 Indana is one of the leading names in Flange Guards, Safety Spray Shield. We adhere to the strict industry standards as a part of our manufacturing process. This helps us providing the best quality shields which are 100% equipped to keep your plants safe & free from any accidents. Installation of shields is very simple & quick process. However there are times when the piping system on the site is complicated & may require expert guidance and supervision in the process of Shield identification & installation. To help our clients through this situation, we at Indana offer on field services where our trained expert visits the site & manage the safety shield requirement.
Initial Survey Services

Our On Fields Experts Will Visit Your Site & Identify The Flanges, Valves, Theaded Joints On Which Spray Shields & Flange Guards Are To Be Installed. Subsequent To This, They Will Take The Measurement Of The Fittings And Tag Them Accordingly. This Makes It Easier For The Installation Of Shields. Usually These Are Not Conducted At Free Of Cost..
INSTALLATION OF FLANGE GUARDS & SPRAY SHIELDS:
In the next step, all the spray shields & flange guards will be manufactured at our site & will be shipped to the onsite facility of the client. Indana Shield Experts will once again visit your site & will have the flange guards installed. This will again ensure that all the shields & flange guards have been properly installed & are in proper shape.
MAINTAINANCE & REPLACEMENTS:
When you allow Indana To maintain your on field Spray Safety Shield s & Flange Guards, Indana experts will visit your site once in an year & will check all the install guards to see if they are still fitting properly. We will also inform you if any flange Guard needs to be replaced.
For Best Rates of Flange Guards Contact us on: info@indanasteel.com